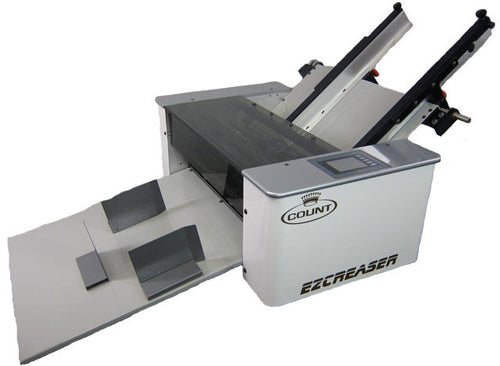 EZ Creaser
EZCreaser Touch R1 Digital Creasing Machine
Touch Screen, Affordable, Friction Top Feed Automatic Creasing, Perforating, and Scoring Machine. Has the Ability to Micro-Perf, Rotary Score, and Crease up to 12 times per sheet. CALL FOR PRICE
EZCREASER TOUCH R1 DIGITAL CREASING MACHINE FEATURES:
• Automatic setups with the touch of a button.
• Accurate Rotary Actuated Impact Creasing
• Linear Perf/Score capabilities, including micro and laser perf.
• Micro-Lateral adjustable Feed Rails
• Batch and Total Counters
• Automated Distance Recognition
• Ability to add Inline Folder
• Ability to add Inline transport to the Countcoat UV Coater
• Comes with both standard and wide crease dies.
EZCREASER TOUCH R1 DIGITAL CREASING MACHINE SPECIFICATIONS:
• Electrical: 115/230 50/60hrz
• Max Sheet size: 18" x 20 " (45cm x 45cm)
• Min Sheet size: 3" x 5" (8cm x 12cm)
• Stock Weights: 16lb. - 16 point
Max Speed
Compression Crease 4500 8.5 x 11 sph
Rotary Perf/Score 12000 8.5 x 11 sph
---