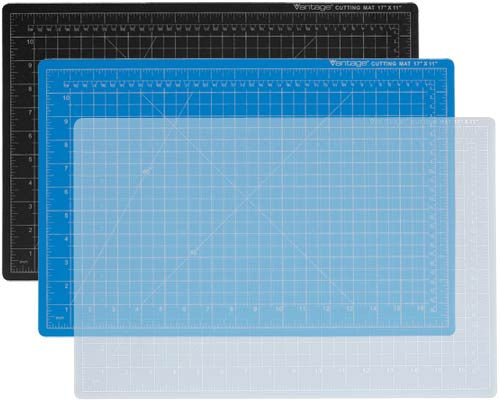 Vantage® Self-Healing Cutting Mats 9" x 12"
Self Healing:

Yes

Thickness:

1/8" (3mm) / 5 Layers

Grid Size:

1/2"

Angle Lines:

Yes

Colors:

Black / Blue / Crystal Clear
Price per Cutting Mat

Features:

Self healing properties allow for max durability
1/8" (3mm) thickness protects work surface from being damaged
5 layer PVC construction provides maximum healing capabilities
PVC material protects blades from becoming dull
Preprinted 1/2" grid for easy sizing of paper

A Closer Look...
Protecting your cutting surface is the function of a cutting mat, but there's a lot more to Dahle North America's Vantage® Self-Healing Mats. These mats are self-healing and constructed using 5 layers of PVC plastics. It's this specialized formation of plastic that allows cuts to just disappear— which greatly prolongs the life of the mat.
Each Vantage® mat contains inch and metric measurements on the top surface as well as 1/2" grid lines, making these mats the perfect work surface for cutting, drawing and sewing. They can be used on both sides and are available in black, blue, and the industry's only crystal clear which is virtually transparent.
---