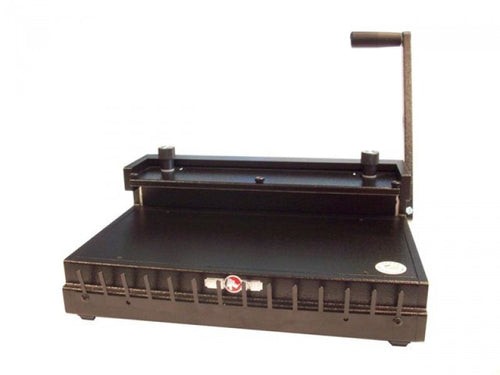 Rhin-O-Tuff HD8000 Onyx Wire Closer
ONYX HD8000 Binding Module With New Wire Hanger
***SPECIAL PRICE- E-mail us at:  sales@justbinding.com **^
The HD8000 is a wire closing machine that offers a 14 inch (356 mm) legal size capacity and closes books from 3/16 inch to 1-1/4 inch thick (5 mm to 32 mm). The settings for wire sizes on this durable piece of binding equipment are fast and accurate, providing a significant savings on wire costs: wire that is spoiled during the set-up and adjustment of competitive closers.
An included heavy duty wire hanger attaches to the HD8000 and holds the wire in position to hang punched sheets onto the double loop wire.
With a three-year warranty, and a very competitive price, no other solution in its class can match its price performance.
This item is eligible for FREE SHIPPING!
---