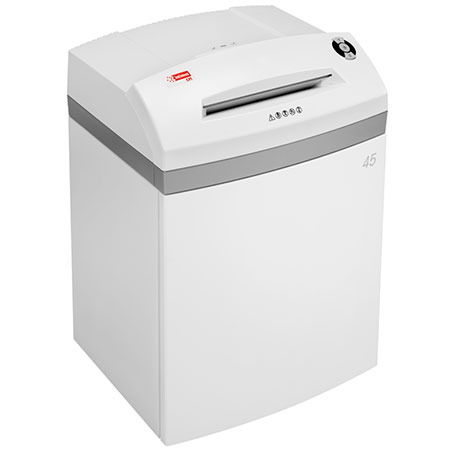 Intimus 60 CP7 High Security Shredder
intimus 60 CP7
NSA EPL LISTED
 Fastest, highest volume small NSA Level 6/P-7 on the market
Shreds 9 reams per hour--500 more sheets per hour than nearly all similarly sized Level 6/P-7 shredders
Shredder of choice for the DOD and DOS for many years, with thousands deployed in government offices throughout the world
Robust, chain-driven system with integrated automatic oiler
60 CP7 waste bin capacity: 16 gallon/60 liter
The intimus 60 CP7 units are highly efficient and effective document shredders. These machines can process 4 sheets in a single pass, at a rate of 9 reams per hour—500 sheets more than nearly any other small Level 6/P-7 shredder listed by the NSA/CSS Evaluated Products List.
The 60 CP7 are designed to be robust and reliable, with a durable drive system with gears custom designed for the demands of the job, a microprocessor-controlled auto-reverse and anti-jam system, and integrated automatic oiler.
For convenience of use, the 60 CP7 Security Shredder feature 16 gallon (60 liter) waste bins respectively. They include illuminated alerts for stand-by, door open, paper jam, and basket full.
Their compact size, reliability, and vast shredding capacity has made these Security Shredders the favored solution of American and global government security agencies around the globe.
Throat Size 9.25" / 235mm
Shred Speed 15 feet/min. / 457cm/min.
Shred Size 1/32" x 7/16" / 0.8mm x 4.5mm
Sheet Capacity 4-8 sheets
NSA EPL Test 4 sheets at a time, 9 reams per hour
Bin Capacity 16 gallons / 60 liters
Voltage 120-240 volts 50/70 Hz
Model  60: 279291 (EU), 279294 (US)
---