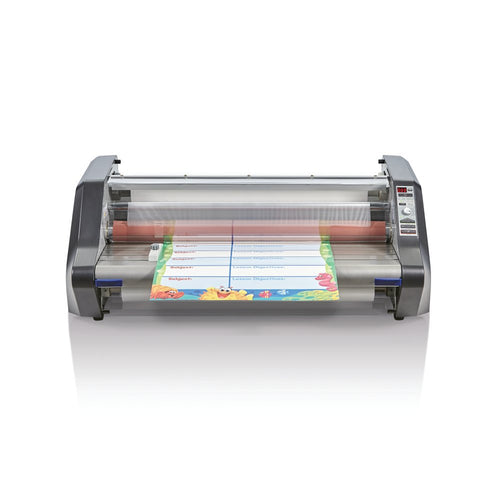 GBC Ultima 65 EZLoad Ready Laminator, 27" Width
Overview
The new Ultima 65 revolutionizes laminating for educators. Conveniently compatible with both EZload film and standard film, this laminator uses AutoGrip shafts and an innovative pivoting feed table to make film loading easier than ever before. Included AutoSpeed and other user-friendly features simplify laminating for users, making this laminator the perfect choice for common classroom laminating jobs, like posters, flash cards, maps and more.
CALL FOR SCHOOL PRICE!
Features & Benefits
EZload technology uses color coded end caps to take the guesswork out of film loading and eliminates the hassle of putting film on complicated film shafts
Pivoting feed table eliminates the need to remove the table when replacing film, further simplifying the film changing process
AutoGrip shafts make removing and adding standard film easier than ever
Maximum document width of 27" is perfect size for laminating classroom charts, certificates, artwork and more. Accepts standard GBC NAP I film or Ultima 65 EZload film up to 3 mil thick.
One-touch AutoSpeed automatically adjusts the laminating speed for you, ensuring quality lamination on every project
Additional stop button on the back of the laminator allows you to stop the machine while watching the job's output
Built-in trimmer eliminates the need for scissors and footage counter lets you quickly tell how much of the roll remains to track film usage
Slow forward and reverse functions work while the machine is open to easily clear jams and ensure worry-free laminating
Visual ready alert light lets you know when the machine's 10 minute warm up time is up. Safety features include attached protective shield, auto standby mode after 2 hours without use and auto shut off after 3 hours without use.
Laminator comes with a limited 90-day warranty. 35"W x 14"H x 21"D.
Extended Features & Benefits
Color Coded EZload® Capability

Educators can spend less time laminating and more time in the classroom, thanks to the EZload film system. This laminator is color coded to match up with the light gray and dark gray end caps on EZload film, ensuring rolls are loaded correctly every time for a lower chance of frustrating film wraps. The EZload film system also eliminates the need to put film on complicated film shafts, saving time and frustration.

AutoSpeed and 27" Width

Laminating any item up to 27" is easy with the Ultima 65 laminator. Plus, the included AutoSpeed feature does a majority of the work for you, automatically picking the best laminating speed for your document. From geography maps to personal sized flash cards, this laminator can handle most jobs, big or small. Compatible with standard Nap I school film up to 3 mil thick for flexible yet reliable laminating results.

Pivoting Feed Table

Say goodbye to fussing with a removable, bulky feed table while changing laminating film. The Ultima 65's pivoting feed table makes it easier than ever to access the film roll when it needs to be replaced. Simply swing the feed table out, replace the film, and swing it back into place. It's that easy.

User-Friendly Features

Designed with you in mind, the Ultima 65 laminator has a convenient stop button on the back of the machine so you can turn it off the second you see your job come out. No longer walking to the front of the machine saves you time, film and energy with every job. The laminator also includes AutoGrip shafts for easier loading of standard film and a handy built-in trimmer for quick film cutting.
---