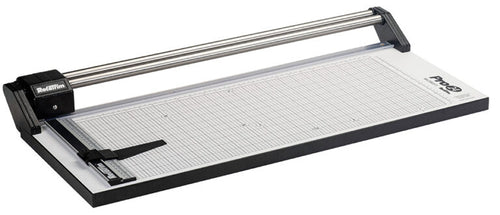 Foster Pro Series Trimmers
Originally designed with the photographer in mind, the heavy-duty use Pro Series has proven its durability and worth as an "all day, everyday use" trimmer in a variety of industries. Aside from the materials listed below, the Pro Series has been used to cut offset printing plates, packaging materials, polyethylene and even mount board – as well as for office finishing projects.
From mount board all the way down to tissue paper, the Pro Series accurately cuts all these substrates without a single adjustment to the machine.
The Rotatrim Pro Series is perfect for heavy-use cutting and trimming of flexible materials:
Solid one inch thick baseboard and 1/12 inch edging strip provides extra stability and long durability
Dual stainless steel guide rails eliminate cutting head swivel while delivering a smooth gliding action
Self-sharpening, absolute precision steel blades
All-metal end frames and head, and an aluminum square side rule
12", 15", 18", 20", 24", 30": up to 3mm cut capacity
36": up to 2mm cut capacity
42", 54": up to 1.5mm cut capacity
Optional Stand & Waste Catcher Package
This convenient quality steel stand that supports the Rotatrim Pro Series trimmers offers rigid support at the ideal working height of 34 inches. Black finished, this stand includes an integrated, transparent space-saving waste catcher that secures off cuts.
Helpful Hints
Two-way cutting option is available on all Rotatrim machines by removing the overload protection plate. The overload protection system ensures that it is virtually impossible to overload the machine. But, if cutting appropriate material, this plate can be removed in order to offer bi-directional cutting.
Features:
Two-way cutting option is available on all Rotatrim machines by removing the overload protection plate
12″ rule supplied with adjustable squaring arm
ISO9001:2008 quality certified
5 year general warranty on all parts
100% made in England
| | | |
| --- | --- | --- |
| 60100 | Cuts Length 12″; Overall Size 18 1/2″W x 15 3/4″D x 6″H | $245.00 |
| 60110 | Cuts Length 15″; Overall Size 21 1/2″W x 15 3/4″D x 6″H | $250.00 |
| 60120 | Cuts Length 18″; Overall Size 24″W x 15 3/4″D x 6″H | $275.00 |
| 60125 | Cuts Length 20″; Overall Size 26″W x 15 3/4″D x 6″H | $290.00 |
| 60130 | Cuts Length 24″; Overall Size 31″W x 15 3/4″D x 6″H | $325.00 |
| 60140 | Cuts Length 30″; Overall Size 36 1/2″W x 15 3/4″D x 6″H | $390.00 |
| 60150 | Cuts Length 36″; Overall Size 42 1/2″W x 15 3/4″D x 6″H | $450.00 |
| 60160 | Cuts Length 42″; Overall Size 49″W x 15 3/4″D x 6″H | $540.00 |
| 60170 | Cuts Length 54″; Overall Size 61″W x 15 3/4″D x 6″H | $610.00 |
---