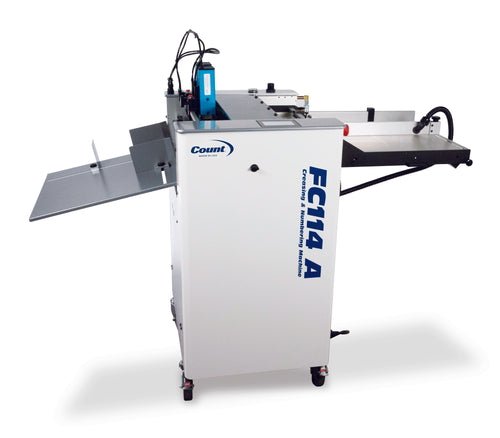 FC114AP Digital Creasing, Numbering and Perforating Machine
FC114 A Digital Creasing and Numbering Machine
(CALL FOR PRICE)
With the investment in a single machine, you can handle high quality numbering, creasing and perforating all-in-one. The COUNT FC114A is a reliable bottom vacuum-feed machine. This machine delivers accurate CAM actuated compression creasing with 2 crease widths, pneumatic numbering up to 24 times virtually anywhere on the sheet, plus perforating and optional micro-perforating. It's a compact, incredibly easy to use and highly versatile "all in one" solution that includes automatic "one-touch" set-ups.
The FC114A has a reliable bottom vacuum feed system with a register guide.
Simple programming allows you to number, crease or perforate individually.
Accommodates inline folders (see COUNT KF-200).
Complete perforating assembly included, with linear perf capabilities up to 4 perfs per sheet-optional micro-perf and score wheel assemblies are available.
User-friendly touch screen for easy set up and control of the machine.
Creasing features include:
Two-sided die creasing rod accommodates for heavier stock-simply remove and flip over to change from narrow to wide crease.
Automated distance recognition–allows auto setups for your most common creases and corresponding folds.
CAM actuated compression creasing.
Numbering features:
Includes reliable pneumatic, Gothic wheel reverse numbering heads–with 7 digits, 4 drop zeros and 4 repeats.
Flexibility to apply numbers virtually anywhere on a sheet–from lead edge, place numbers within 1 mm of previous number.
Number single sheets, or crash number up to a 10-part carbonless form.
Choice of black or red ink, in patented self-inking disposable cartridges–no re-inking required!–for approx. 25,000 impressions per cartridge.
Program each numbering head individually for multiple numbering.

Product Specifications

Max Perf/Score Speed

12,000

Paper Weight Range

60 – 350

Max Sheet Size

24.0 L x 18.0 W in (61.0 x 45.7 cm)

Min Sheet Size

4.5 L x 6.0 W in (11.4 x 15.2 cm)

Max Crease Locations per Sheet

12

Max Perf/Score Locations per sheet

4

Paper Fold Options

Bi-Fold, Tri-Fold, Z-Fold, Letter Fold, Roll Fold, Gate Fold, Double Gate Fold, Double Parallel Fold, Perfect Bind: No Hinge, Single Hinge, Double Hinge

Touch Screen Controls

True

Product Dimensions

63.0" L x 29.0" W x 43.0" H

Product Weight

220 lbs (100 kg)

Electrical

110 V, 50 Hz, or 220 V, 60 Hz (Check before purchasing)

Max Numbering Speed

8,000

Numbering Heads

Pneumatic
---