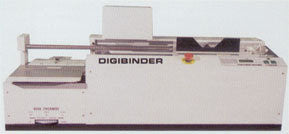 DigiBinder PerfectBind Machine
(Contact sales@docfinres.com for price quote)
Small enough for an office, the Digibinder is also ideal for in plant and on demand printers. One touch perfect binding is here with the Sterling Digibinder  perfect binder. The Sterling Digibinder ® is a fully automated perfect binder, the book size, pneumatic clamp, and nipper are completely self adjusting.
The Digibinder roughs the entire backbone and notches. Notching blades are two small points that turn on a wheel and scrape the backbone of a book block prior to gluing. This creates what looks like a barber pole on the spine of the book block and the glue will seep into these spiral gouges in the spine. Twin glue rollers ensure an even glue application. There is absolutely no set up. Go from thick books to thin books without any adjustments.
Standard Features:
Auto Clamp
Auto Nipping
Notching/Roughing
Fume Exhaust
Supplies:
Digi-Glue 90 - Specially formulated for use with bond and offset paper stocks.
Digi-Glue 94 - Specially formulated for use with Gloss and coated paper stocks.
Digi-Glue 2928 - Specially formulated for use with color copy digital print output.
360 per hour
2" max thickness
Standard Features: 
Auto Clamp
Auto Nipping
Notching/Roughing
Side Gluing Attachment
Tool Kit
Fume Exhaust
Maximum Length:   12.5" (320mm)
Maximum Thickness:  2" (51mm)
Speed:   Up to 360 Books per hour
Power:  20 Volts, Single Phase
Warm Up Time:   30 minutes
Dimensions:  55"L x 29"W x 17"H (49" if 870)
Weight:   285 LBS/130 kg
---