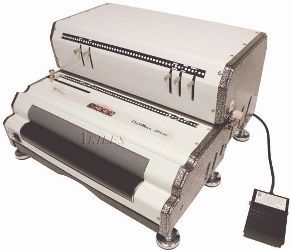 Akiles CoilMac-EPI Electric Punch & Electric Coil Inserter
Round Holes : Standard 4mm round holes.
5 Disengageable Pins : Specially designed disengageable positions guarantee a clean punch with most standard paper sizes, making the CoilMac-ECI very simple to use.
STANDARD 4:1 Pitch (0.250") : Standard pitch for coil binding. Punches 43 holes in a 11" sheet.
All Electric Operation : Powerful punching & inserting capability with a simple press of foot pedal. 
Extended Single Punching Length (13") : With open ends & continuous punch guide to easily punch documents of any length (up to 26").

High Volume Punch Capacity : Suggested up to  25-sheet  for 20 lbs paper, or 2.6mm (28-sheet equivalent) for hardboard*, in 13" length (53 holes).

Super Strength Punch Mechanism with exclusive "Precision Guiding SystemTM" Blade Set : Cast-hardened & heat-treated steel dies provide superior strength & hardness. Exclusive "precision guiding system" guarantees a sharp & clean perforation everytime.

Electric Reverse (Anti-Jam) Function : For trouble-free punching.

Full Length Heavy-Duty Electric Coil Inserter with Double Roller Mechanism : 11-3/8" EPDM roller provides high friction and durability, making this inserter one of the easiest-to-use & most durable. Front-mounted roller position gives operator greater control & improves efficiency. Foot-pedal operated. Plastic & Metal coil compatible.

Industrial-Grade Roller Motor : Heavy-Duty motor (3 times heavier-duty than other similar machines in its class).

U-shaped Alignment Channel : Assists the operator to properly shape the document's spine, for faster & easier coil insertion.

Side Margin Control : Provides an evenly centered punch for all document sizes.

Punching Margin Control : Provides the correct punch-margin-depth for each coil size and maximizes the document's tear resistance.

Open Throat and Continuous Punch Guide : For an easy alignment and punching of longer documents up to 26".

Rugged ALL Metal Construction : Makes it the most reliable & durable coil binding system in its class.

Extra-High-Capacity Waste Drawer

6 Height-Adjustable Non-Skid Metal Feet

CE Certification : All components certified & approved by CE for most stringent safety requirements.

ISO9001 & 14001 Quality : Manufactured under ISO9001 & 14001 guidelines for highest quality control & environmental management standards

Includes Coil Diameter Selector & Premium Oval Coil Crimpers
---