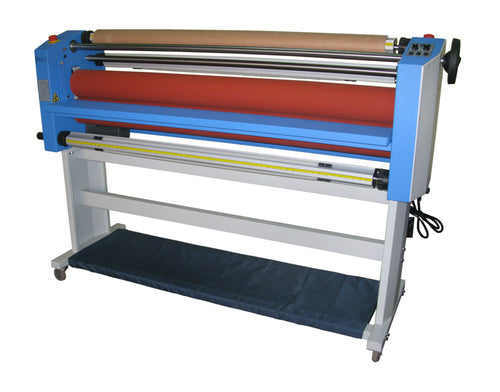 355 TH 55" Top Heat Wide Format Laminator
355 TH 55" Top Heat Wide Format
Wide Format Roll Laminator   ***CALL FOR PRICE***
Sign shops and digital printers now have an affordable option for pressure-sensitive applications. The Gfp 355TH laminator delivers labor-saving features, rugged construction and high quality output in an entry level machine. Building off of the 255C Cold Laminator, the 355TH adds top heat for better overlamination, mounting and board coating results. To make production easier and more efficient, it features new 3" aluminum tube Quick-grip film shafts with width measurements for easy loading and alignment, Integrated Top Liner and Rear Output Rewinds for roll-to-roll applications, and new Metal Alloy Tubular Heaters to reduce breakage.
Roller diameter 4.5"

Speed and temperature controls

Foot pedal

2 Unwind supply shafts

Top and rear take-up mandrels

Swing up feed table

 Integrated top liner rewind

 Integrated rear rewind

Variable roller gap to 1"

 Metal Alloy heater

 3" Aluminum Quick-Grip shafts

 Chain drive rewinds

 Single pressure adjustment

Machine stand with casters

120 volt service

 cTUVus safety approved

36" table height output
Specifications 355TH
Laminating Width 55"
Roller diameter 4.5"
Roller gap 1"
Rear rewind Included
Max temperature 122º F
Laminating speed 20 ft/min
Unwinds Top/Bottom
Liner rewind Chain drive
Pressure adjustment Hand wheel
Tension adjustment Single knob
Heat method Metal Alloy heater
Max. Roll diameter 10" OD
Power supply 120v 12a
Power consumption 1300 W
Foot pedal Included
Stand with casters Included
Net weight w/ stand 321 lbs
Dimensions 72" x 23.5" x 48.5"
Shipping weight machine 436 lbs
Shipping dim. machine 79" x 26" x 31"
Safety agency approval cTUVus
Includes stand. Optional on-site installation and extended warranty available upon request.
---