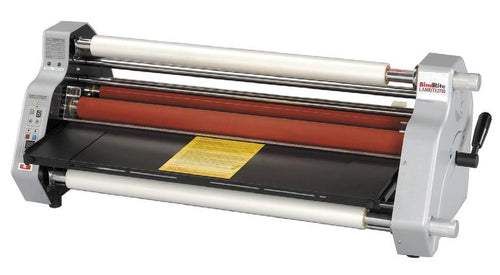 Lamrite 2700 27" Roll Laminator
Lamrite 2700 27" Roll Laminator
Versatility in Laminating  Call for a quote 1-866-781-2463
Engineered for productivity, the 27" LamRite-2700 Roll Laminator delivers superior results at laminating speeds up to 8.8 ft / minute and can be used with films up to 10 mil thick.
Simple to operate and perfect for Schools, Copy Shops and In-Plant centers.
Standard features include variable speed /temperature and tension control for enhanced reliability, while the temperature memory function maximizes repeatability. Auto shut off and front shield sensors provide additional safety assurance. With all metal construction, UL listing and a one year warranty, the LamRite-2700 is unmatched in its class for value and performance.
Specifications: 
One year Warranty
Dimensions: 36.5" (L) x 14" (W) x 14" (H)
Weight: Gross weight 113 lbs.
Net weight 97 lbs.
FEATURES
•  Heated silicon rollers-Rollers apply heat and pressure for a superior lamination seal with none of the scratching found on heat shoe machines
•  27" Width- Perfect for sheet size and items as large as posters, inkjet prints, signage
•  Film thickness from 1.5 mil to 10.0 mil- Utilizes film gauges for a broad range of applications and finishing requirements
•  Variable speed & temperature control- Important for running special films or unique product
•  Mounting-Up to ¼" Foam Core
•  Auto standby and shut off feature-Machine goes to standby in 60 minutes, complete shutdown shut down 30 minutes later. 
•  Safety feed tray and front shield sensors-Machine will not operate unless engaged.
•  Memory function-Common jobs can be stored into memory for easy recall
•  Rear film slitter-Cuts film cleanly avoids tearing finished product
---