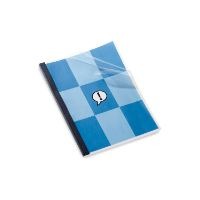 Utility Thermal Cover Letter Size, 100 pcs
All clear transparent 6mil front and choice of LINEN back in Blue, Black, Ivory or SATIN COAT in White.
Utility Binders are available in 5 spine sizes up to 1/2" 1/16",1/8" ,1/4" ,3/8" 1/2"
In-stock and ready to ship! Pro-Bind's Utility Cover has a clear transparent 10 mil front cover with a paper back. This product is perfect for on-demand thermal binding in a pinch. Utility covers are available in spine sizes from 1/16 through ½, (3/32 is not available) 

Available back stocks: 12 point Satin Smooth in White only or 80# Linen Cover in Black, Midnight Blue or Maroon. 
Our thermal binding utility covers are called Goofless Thermal Binding Covers and are comparable with GBC Therm-A-Bind Covers. They have a 6mil clear front, a Linen Weave or Satin White back and spine and are available in sizes from 1/16" to 1/2" thick and are compatible with all of the Thermal Binding Machines available on the market with the exception of UniBind. Thermal Binding Utility Covers are designed to allow you to quickly produce professional looking reports and presentations with no punching required. Plus the clear front covers allow you to create your own professionally printed title sheet to impress your clients and customers.
---