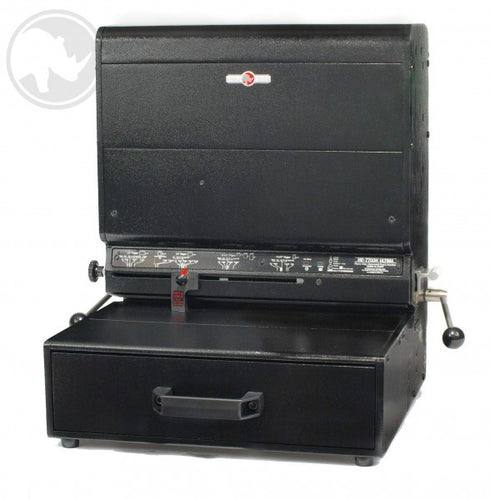 Rhin-O-Tuff HD7700H Onyx Modular Punch
Rhin-o-tuff HD7700H - with choice of one free standard die. 
Call for price quote - 866-781-2463
The HD7700H Ultima is the top of the line heavy duty electric hole punch. This durable Table Top Punch that has no equal, combining horizontal paper feeding and the Rhin-O-Tuff patented Quick Change Die System with the following exciting features:
14" (356 mm) open ended extra capacity die: Punch up to 55 sheets or 110 pages of 11 inch, 20-pound (80 gsm) bond paper.  The number of sheets depends on the paper weight and punch pattern used.
U-View waste tray: Holds up to 150% more waste than any other table top punch & eliminates troublesome overfills.
The Accu-Set Paper Stop: Set-up all hole placements easily & accurately to fit comb, wire, coil, and spiral binding machines, even on odd sized paper.
Diagnostic Display Lights: Give indications of important machine conditions.
Automatic and Manual Reverse: Providing extra insurance to reduce costly down time & expensive service calls due to overload jams.
With these features plus a 3-year warranty along with all of the standard features below, the HD7700 Ultima heavy duty electric hole punch will handle any size project, large or small. Designed for high volume commercial and corporate use
Monthly Lease Price From $114
Purchase Additional dies
This item is eligible for FREE SHIPPING!
---