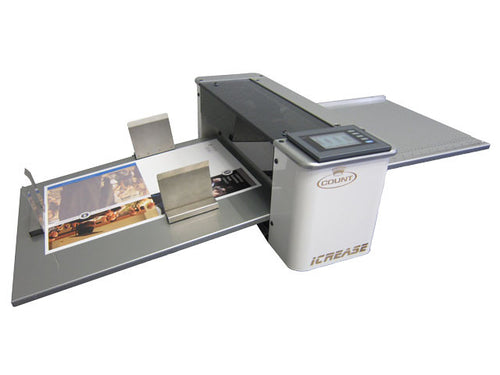 iCreasePro Digital Creasing Machine
iCreasePro Digital Creasing Machine
Touchscreen with Automatic distance Recognition. Perfect for the short to medium run digitally printed stock that needs creasing without the cracking of the toner. CALL FOR PRICE
iCrease Pro Digital Creasing Machine Features:
• Low Cost Hand Feed Design for Low to Medium Run Creasing
• Accurate Rotary Actuated Impact Creasing Eliminates Cracking
• Job Counter
• Automated Creasing Positions in Half, Tri-Fold, Z-Fold, and Letter Folds.
• Comes with both standard and wide crease dies.
• Custom jobs can be setup in moments and have up to 4 creases per page (12 creases per page on the iCrease Pro).
iCrease Pro Digital Creasing Machine Specifications:
• Electrical: 115/230 Volts 50/60 Hz 10A • Max Sheet size: 13" x 19"
• Min Sheet size: 3" x 5"
• Stock Weights: 16lb. - 16 point
Max Speed-Compression Crease 2000 8.5 x 11 sph
---