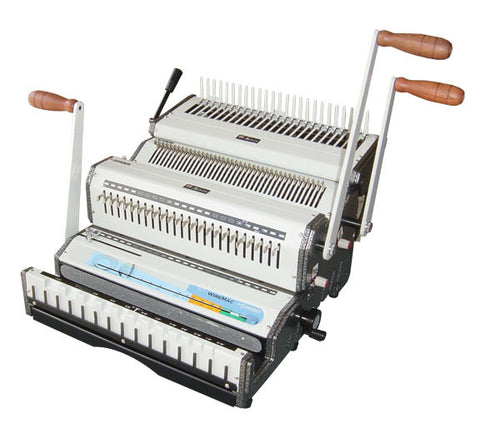 Akiles WireMac-Combo-31
Akiles WireMac-Combo-31  3:1 Wire & Comb

Ask for promo code to use at checkout for your discount
Heavy-duty / Multi-Functional (Versatile) / Reliable / Easy to use
Die Disengagement Pins: All dies can be independently disengaged, allows punching of any size document while preventing partial side-end perforation.
Side Margin Control: Provides and evenly centered punch for all document sizes.
Vertical Wire Closer
Wire Holder: Holds wire in place for easier inserting of sheets.
Waste Drawer
Diameter Scale: Measures document's thickness in order to select best wire/comb size option
Master Selector: Determines the correct: Wire Diameter, Closing Position, Depth Margin & Wire Pitch.
Wire Closer Control: With continuous adjusting scale for an exact and secure closure every time .
Punch Throat & Ruler for Comb
Open Punching Throat & Continuous Punching Guide: For an easy alignment & punching of longer documents.
Depth Margin Control: Provides the correct punch margin depth for each wire/comb size. Maximizes document tear resistance.
Punch Throat & Ruler for WIRE
Wire Punch Handle
Comb Punch Handle
Comb Opener / Comb Opener Handle
Wire Closer Handle
---