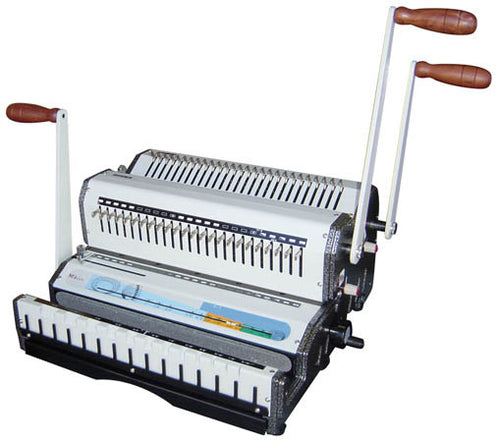 Akiles Duomac-C51 Comb & 5:1 Coil
Akiles Duomac-C51 Comb with 5:1 Coil

Use promo code "Akiles2015%" at checkout to receive discount
View PDF Specifications: DUOMAC SERIES PDF
With two independent punching die sets, this versatile & easy to use combo binder allows you to punch & bind multiple systems and or different pitches.
Punch handles
Punch Throat & Ruler
Depth Margin Control: Provides the correct punch margin depth for each wire/comb size. Maximizes document tear resistance.
Open Punching Throat & Continuous Punching Guide: For an easy alignment & punching of longer documents.
Punch Throat & Ruler
Wire Closer Control: With continuous adjusting scale for an exact and secure closure every time
Master Selector: Determines the correct: Wire Diameter, Closing Position, Depth Margin & Wire Pitch
Diameter Scale: Measures document's thickness in order to select best wire/comb size option.
Wire Holder: Holds wire in place for easier inserting of sheets
Waste Drawer
Vertical Wire Closer
Side Margin Control: Provides and evenly Centered punch for all document sizes.
Die Disengagement Pins: All dies can be independently disengaged, allows punching of any size document while preventing partial side-end perforation
Wire Closer Handle
Comb Opener Handle
Heavy-Duty design by CAE (Computer-Aided Engineering) technology
Perfect for Bindery, Print Shop, Copy Center, Corporation, Advertising Agency, School, Office and more!
FREE coil crimpers with any Coil combination.
Comb Spreader with any Comb combination.
Built-in Wire closer with any combination.
Electric inserter sold separately at bundle price for any coil combination.
Comb combination is compatible with 9/16" wire pitch
Single punching capacity: up to 20 sheets (20lbs paper/ letter size)
Single punching length: 14" (13" for coil) - with Open Ends for longer sizes
100% disengagement dies - wire & comb (5 for Coil)
Weight: 64lbs (53lbs for AWMD)
Warranty: One year
---