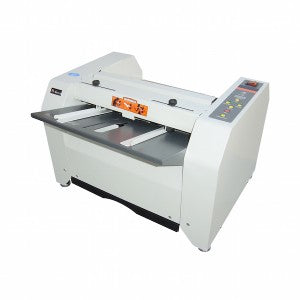 Akiles Bookletmaker
Product Description
• Powerful: Stable up to 22 sheets of 20 lbs paper at a time.
• Compact: Fits comfortably in your office, school, church or print shop.
• Easy to operate: No warm-up time. Simply insert the sheets, and machine will staple & fold it into booklet within seconds!
• Multi-functional: Choose from Fold & Staple, Fold only or Staple only. Side and corner stapling also available.
• Versatile: Makes booklets from all common paper sizes, including Letter, A4, A3, Legal or 11 x 17" sheets.
• Precise: Built-in LCD counter gives you precise control of your job progress. Clear window allows you to monitor the operation easily.
• Cost-effective: Easy to make adjustments on different sheet sizes, makes short-jobs extremely economical.
• Heavy-Duty: Heavy-duty stapler heads provide many years of trouble-free bookletmaking.
• Superior design: Achieve professional results in-house.
• Quick & easy set-up: No tools required to switch between booklet sizes, operation modes (manual / automatic), stapler head locations (5 total), operation functions (booklet-making or just folding or just stapling).
Model:
BOOKLETMAC AUTOMATIC BOOKLET MAKER
Staple Type:
Standard chisel-point staples (26/6 & 26/8) or loop staples (Ri 26/6)
Number of Sheets:
Up to 22 sheets (64 pages) of 20 lbs paper
Speed:
Up to 800 booklets per hour
Sheet Dimensions:
Minimum 4-3/4" x 8-1/4" or A5 (148 x 210 mm)
Maximum 12-1/2" x 17-3/4" or A3 (297 x 420 mm)
Booklet Dimensions:
Minimum 4-1/8" x 4-3/4" or A6 (105 x 148 mm)
Maximum 8-7/8" x 12-1/2" or A4 (210 x 297 mm)
Number & Capacity of Staple Heads:
Standard: 2 x 210 staples
Maximum: 5 x 210 staples
Staple Head Distance:
108mm & 216mm
Motor:
Continuous Running type Induction Motor
Operation Mode:
Automatic / Manual
Machine Dimensions:
20" (D) x 23" (W) x 14.5" (H)
Caption Dimensions:
24" (D) x 26" (W) x 20.5" (H)
Weight & Volume:
88 lbs & 7.40 Cbft
Warranty:
1 year
---