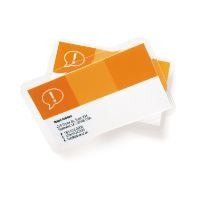 OBT Pouch 6 x 9
OBT Pouch 6 x 9,100 pcs
Available as:
6 x 9" , 5 mil ,100 pcs
6 x 9" , 5 mil ,100 pcs
6 x 9", 7 mil 100 pcs
6 x 9", 10 mil 100 pcs
High quality laminating pouches help to improve the value of all printed materials. They enhance colors by turning dull prints into bright lustrous colors, help to prolong the life of printed materials and preserves them and protect them from outside elements. All of our pouches include one carrier per box. These pouches have superb clarity and offer exceptional value for reasonable prices.
---